The Rise of Pink in High Fashion
Written by: Mary Mcilvain
photo by Design and Culture by ED
For many 2000's babies, the color pink is nostalgic of childhood. Hot pink spoke the
language of hyperfemininity, and brought to mind images of Sharpay Evans and Elle
Woods, of Barbie and the Bratz dolls. But how did we evolve from a color associated with
children's toys and films to one that makes a statement on the runway two decades later?
Designer brands like Valentino may be to thank for more recent surges of the hot pink
craze in high fashion, after releasing collections featuring this bright hue. Pierpaolo Piccilo,
the creative director of Valentino, designed an entirely pink collection that was displayed
in the company's Fall/Winter 2022-2023 show. The collection clearly demonstrates how
monochromatic looks can have just as much excitement as those with loud patterns. More
importantly, the show emphasized how this stereotypically feminine color is not gender
exclusive, but that anyone can slay in a hot pink fit.
In 2022 we simply cannot get enough
of hot pink, which means that pink
accessories are a must. Sneakerheads who are ready to undergo 'bimbofication' will be excited to learn that Balenciaga has released both their Triple S and Track.2 sneakers in this neon color. The brand also offers hot pink purses iconic enough to leave Paris Hilton saying "That's hot". The Balenciaga Hourglass Top Handle Bag and the Le Cagole Shoulder Bag are just two prime examples of this trend. Anyone who claims that pink and red clash has clearly never seen some of the most eye-catching hot pink moments on the red carpet. Countless celebrities have
sported pink from head to toe as a sure-
fire way to make an unforgettable statement. One of our favorite fuschia
looks comes from actor Colman Domingo
at the 93rd Academy Awards in a crystal
embroidered suit designed by Versace.
The pairing of gold buttons and rings
made for a classy but bold ensemble.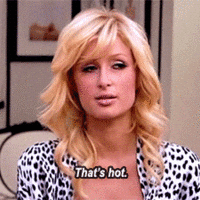 Actress Anya Taylor Joy has not only
mastered the Queen's Gambit, she also
looked like a queen at the premiere of her
film Last Night in Soho in September.
The Dior Haute Couture satin dress,
paired with a netted hat and a flowing
bow, is reminiscent of the 1960s if Barbie
was elected president.